In conversation with Julia Cameron
The Artist's Way has and continues to be one of the few books that, after many years, I go to for inspiration about trusting myself, especially when I'm emerging onto (into?) a new phase in my creative life.
My tendency, when change is underfoot, is to think I should harbor zip-zero-nada anxiety about changing. About growing. Because change–and growth–are good. Well, yes, they are good, and necessary–but I still get anxious and have to pull myself back to…my self. The Artist's Way (and several of Julia Cameron's other books, in particular Answered Prayers–Love Letters from the Divine) brings me back to me. And once I'm grounded, I can set off again on my process of growth and change.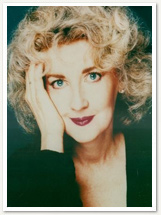 Beginning a new creative journey is Julia Cameron herself. She recently launched "The Artist's Way Toolkit", an online version of her bestseller text. Julia has translated The Artist's Way with to better accommodate those who would like to do more online. Talk about growing and changing with the times and needs of the individual, especially the millions who prefer to conduct their writing and more online.
While foundational items like morning pages are still meant to be done by hand (there is that connecting to self component that pen to paper delivers quite nicely, and in a very different way than fingers to keyboard), the program is more portable than ever.
I had the rare opportunity to ask Julia Cameron a couple of questions about her own process and vision of creativity, as well as her vision of the online kit in regards to morning pages.
Meredith: What does beginning look like for you…and what did beginning this toolkit look like for you? 
Julia Cameron: Beginning looks like hope. You hope to be able to expand your life. You hope that the tools that have worked for four million people will work for you as well. You are open-minded to experiment. You try the tools and record the results.
Meredith: What is your feeling, with the new online toolkit, of morning pages by hand or online? Has your take on this evolved?
Julia Cameron: Morning Pages remain the same: they need always be done by hand. Hand-writing puts us in touch with our emotions. We learn how we feel about what we say. Writing by computer is a more shallow practice. It yields us speed and distance, but not the depth that we are looking for. The Toolkit is to be used more as you would use a notebook. The great thing about this notebook is that, while it doesn't match up with The Artist's Way week by week, it contains many of those exercises and tools, more than you will find in the book itself.
Her newest book, The Prosperous Heart, is on sale now. Visit Julia's website, Julia Cameron Live, by clicking here.
[Thanks, Julia!]