by Renée Thompson
A few years ago, when Frank McCourt appeared in Sacramento for a signing, I handed him my copy of Angela's Ashes. "Thanks for coming to see us," I said.  "We're so excited you're here."  He'd been looking down until then, plying his signature to dozens of books and not paying much attention to the crowd.  My enthusiasm must have piqued his interest, though, because he looked up, smirked, and said, "What choice did I have?"
What choice, indeed?  The man was 76 at the time, and he should have been home, relaxing in a recliner, his feet ensconced in red velvet slippers as he sipped a pint of beer.  Instead, he was plugging his latest memoir, Teacher Man, because writing a book is only half the story.  Selling is the other half, the exhausting half.  The half I thought I'd prepared for.  The truth is I had no idea.
This year, at 57, I sold my first novel, The Bridge at Valentine.  I wish I'd done it ten years ago, before my neck, knees, and back started to go.  I've been stunned to discover how physically demanding selling is, and I've often wondered how other writers my age (and older) managed it.  Like me, Annie Proulx was 57 when she published her first novel, Postcards.  Norman Maclean, author of A River Runs Through It, was 74.  So was Harriet Doerr, who wrote Stones for Ibarra.  Sue Monk Kidd was 54 when The Secret Life of Bees hit the shelves.  The biggest surprise, though, was that Laura Ingalls Wilder was 65 when she published Little House in the Big Woods – the first book in a series.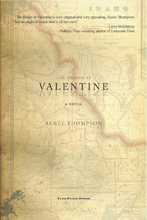 Maybe they had good help.  Maybe they went it alone.  Whatever their circumstances, their publishers certainly expected they would do all they could to help themselves.  Now, that expectation is even greater.  In my case this means writing, and then implementing, my own marketing plan and spending much of my own money to do it.  Driving 200 miles, round trip, to meet with book-club members.  And flying to Boise and back within 36 hours to appear on a radio talk show.
It's a tough go, but it's also evidence of my success, and that's meaningful.  Because it doesn't matter if we're 27 or 57: hard work invariably pays off.
Renee is the author of the novel THE BRIDGE AT VALENTINE. Her stories and criticism have been published in Glimmer Train, Narrative Magazine, Chiron Review, Writer's Digest and many others. Visit her website by clicking here.