by Stephanie Stiavetti
A few weeks ago I was reading an interview with Gina Frangello on The Writer's Inner Journey and thought to myself, "Gee, I wonder if she keeps a journal?" I've always been curious about the literary process for individual writer, especially those who have effectively carved out a niche for themselves. Writing is a very personal experience, but I often feel like it's productive to study the habits of others who are succeeding at goals that are similar to those you've set for yourself.
When it comes to the habits of other writers, the one thing that I'm most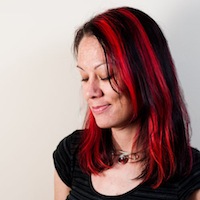 curious about is how they record their thoughts. Do they keep a journal? If they do, are they using a computer to record their thoughts or a handwritten paper journal? If it's a paper notebook, what brand, style, etc of notebook do they prefer and why?
And what do these writers record in their journal entries? How often do they write them? What do they then do with said journal entries over time? Do they refer to them when writing, making them an integral part of their overall literary experience?
I passed this idea on to Meredith, since I thought it would be perfectly suited to The Writers Inner Journey. She liked the idea and asked me to write up the first post. So, here you go.
I first started journaling when I was a little girl, but it never really became a regular habit until the advent of the internet. Once I found that I could record my thoughts much faster on a computer than I could in a paper notebook, journaling became a integral part of my day. I first starting blogging in 1996 – back before 'blogging' was even a word – on a site that I'd set up myself. I eventually moved to LiveJournal because it had all sorts of security features that allowed you to share entries with friends while keeping them tucked away from the general public.

While I love being able to use a keyboard to type out my thoughts at light speed, over the past few years I've been more drawn to handwritten journaling. There's just something about the flow of ink on the page that I find appealing. Plus, you're using a different part of your brain when you write with your hand, versus typing with both hands on a keyboard. I find that I record different kinds of thoughts depending on the medium I use, and that alone is a fascinating journey into the depths of my psyche that has spurred many journal posts.

Being the writing nerd that I am, I'm very particular about notebooks (see this post on notebook selection, by another writer). After a lot of trial and error, I've fallen in love with Clairefontaine notebooks because I love the tooth of their paper and how it feels under the tip of my fountain pen (see, I told you I was a writing nerd!). I've also used and enjoyed Moleskines, though my handwriting it on the large size and these little books seem to fill up too quickly.

I don't journal every day, though I try to get to it at least twice a week. I save everything because I'm terrified that I'll get rid of some pivotal bit of information that I'll need someday. I do use my journals when writing, usually because my characters might be going through an experience similar to what I have in the past. Keeping my entries allows me to delve into a part of the personal experience that I might have a tough time articulating when I'm not in the thick of it anymore.

My only real gripe with writing in a paper journal is that they don't have a search function. I've become very spoiled by my early days of writing on a computer. 🙂

Thank you, Meredith, for asking me to kick off this series!
Stephanie Stiavetti is freelance food writer and aspiring novelist. While she writes for NPR.org, Pregnancy Magazine, Mom Magazine, and the Food Mag, Stephanie spends a lot of her time blogging about food at Wasabimon. You can follow her on Twitter under the moniker @sstiavetti, where she posts regularly about cooking writing, and how to get along this is vast social media world.