Other Voices Books editor Gina Frangello (whose editor interview on this very blog has been insanely popular [thanks, Gina!]) loves her work, mostly, I think, because she loves the authors she works with. Here, in her own words,  she introduces us to three—Joe Meno, Allison Amend and Tod Goldberg–and describes the creative journey of working with each.

"The great thing about running an indie, having founded it, is creative freedom.  My business partner Stacy Bierlein and I don't have to consult a marketing team or shareholders.  We make all our own creative calls.
"Even now that Other Voices Books is an imprint of Dzanc Books, Dzanc was all for our retaining full creative autonomy, and we're two years into that process and they've been utterly faithful to their word on that.  Indie publishing is not lucrative, but it's wonderful, invigorating work that allows people like Stacy and me, two writers and readers who love words and feel about our favorite characters the way we feel about our friends, the almost unbelievable pleasure and luxury of bringing stories and characters we love into book form.  It's just the greatest gig a girl could ask for.

"All editors have encountered writers who possessed potential that felt large enough that it lit a kind of spark long before we found the "right" piece from them to publish.  At Other Voices magazine, an example of such a writer would be Joe Meno, who began sending me work when he was probably twenty-four years old.  It was clear that he had an enormous talent, and in fact he had already published his first novel with St. Martin's. But the short pieces he sent me initially didn't feel finished, didn't feel right to me somehow, and I must have rejected him two or three times, despite his talent.  I kept giving him feedback, and he kept submitting, and soon we found the right story and published him.  By the time the magazine closed in 2007, after 24 years in print, I believe Joe held the record (with G.K. Wuori) for the writer published most often in Other Voices.  He became one of our all-time favorites, and his writing–he's still only in his mid-30s—is still getting better.  Someday it will be nothing short of ridiculous to tell people that I used to reject Joe Meno stories, because I believe he's destined to be a truly great American writer.  But there it is—I did.  Thankfully he's got the kind of generous, open spirit that he stuck with Other Voices and me until we were able to work together many times.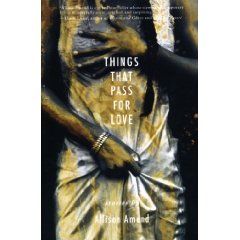 "Another example of this is Allison Amend, who Other Voices kept selecting as a finalist in all of our short story collection contests, always a bridesmaid but never quite the bride, until we couldn't sleep for wondering what it was about that collection that was keeping it from being elevated above the other choices despite how good it obviously was.  Finally, I just basically told Allison to send me every story she'd ever written and I was going to figure out what about her collection–as she was then conceptualizing it—wasn't working and if replacing some stories with others would make the project click.  It turned out to be exactly what we needed: we published a different version of her collection, and it won a bronze IPPY and got fabulous reviews. It needed a new eye, a new vision, and we were able to offer that, and Allison was receptive to it.
"And of course the quintessential OV Books example of the overlap of writer and project would be Tod Goldberg.  For us, Tod has gotten to a point of transcending any particular project, because we've worked with him so much that we believe in his body of work, not just each individual piece.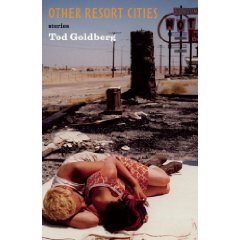 If Tod (whose The Writer's [Inner] Journey interview will run a few weeks from now} is working on a collection, OV Books knows we can work with him to make that project fit both his vision and ours, because we know he has the talent to recognize things, to revise, to make it happen.
"We've been publishing his short fiction in the magazine since 1998 and his first collection was the press' inaugural book, and we just published his second collection.  This is just a case where a writer simply "fits" with us and what we're doing—Tod is the most versatile writer I've ever met and in my opinion the short story is his best form, he's a brilliant weaver of short fiction.  It's not what sells best for him–he also writes the Burn Notice book series and he writes literary crime novels, and those have a larger market–but we feel incredibly fortunate to be able to nurture his talent and give him a stable and enthusiastic home for his short fiction books.  It's wonderful to be able to find a relationship like that with a writer, where—like that old publishing house model of old—you're able to offer him a literary home that, over time, becomes like family.  That kind of thing is what makes it all worth it."